PDP Convention: How Governors Floored Atiku, Saraki, Lamido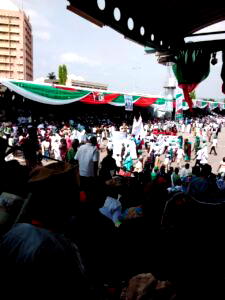 …As Arapaja beats Oyinlola, Ciroma loses again
…APC incapable of holding convention- Ayu
ABUJA- Former Vice President, Alhaji Atiku Abubakar ex- Senate President, Dr. Bukola Saraki and former Jigawa state governor, Sule Lamido may have had a foretaste of what await them in their rumoured 2023 Presidential ambitions.
At the just concluded national elective convention of the Peoples Democratic Party, PDP, in Abuja; governors showed their might as they literally handpicked members of the next National Working Committee, NWC, and other national officers of the party.
Atiku, Saraki and Lamido, Vanguard gathered, did everything possible to drum support for Olagunsoye Oyinlola who vied for the office of the deputy national chairman (South) against Taofeek Arapaja.
Arapaja, a former deputy governor of Oyo state, rode on the support of the PDP governors to the convention, as entreaties made to Oyinlola to stepped down failed.
Two hours before balloting, Atiku, Saraki and Lamido shrugged off their big men status as they made their way to state pavilions housing  delegates,  to woo support for Oyinlola. The move, according to findings, was aimed at neutralizing the influence of the governors who have since hijacked the party following the ouster of former chairman, Prince Uche Secondus. But, it turned out an exercise in futility as Arapaja polled a total of 2,004 votes to beat Oyinlola who barely garnered 705 votes.
A member of the outgoing NWC told Vanguard in confidence that with the feat, governors have announced themselves as the undisputed owners of the party.
"Atiku and Saraki should realize that their time is over. If they want to pursue their 2023 ambitions, the governors would have a big say. What it means is that without the support of the governors, you can't win a big position in the PDP of today. This is the message I think everyone took home from this convention," he said.
Like in 2017 when her bid to become the PDP deputy national chairman (North) failed, former Women Affairs Minister, Maryam Ina Ciroma again failed to realize her ambition as she lost to Ambassador Umar Iliya Damagum.
13 governors elected on the platform of the PDP, Vanguard learnt, had pleaded with Ciroma to shelve her ambition to give room to the emergence of Damagum as consensus candidate.
After entreaties to her failed, Ciroma headed for the convention with confidence but the governors made their influence count as Damagum polled 2, 222 votes to emerge deputy national chairman (North) while Ciroma garnered a paltry 365 votes.
One striking feature of the voting pattern of delegates was that they all voted uniformly for the consensus candidates handpicked by either the governors or their associates.
Thus, the likes of Senator Samuel Anyanwu, Debo Ologunagba, Stella Effah-Attoe and Kamaldeen Ajibade emerged national secretary, national publicity secretary, national woman leader and national legal adviser respectively after polling 3,426 votes each at the convention.
The story was the same for unopposed Umar Bature, Okechukwu Daniel, Daniel Woyegikuro,
and Mohammed suleiman, as they became members of the NWC after polling 3,426 votes each to emerge national organizing secretary, national auditor,  national financial secretary  and national youth leader of the party respectively.
Like in 2017, the PDP governors compiled names of their preferred candidates, all of whom emerged victorious at the convention.
Meanwhile, national chairman-elect of the PDP, Senator Iyorchia Ayu has taunted the All Progressives Congress, APC, for what he called their inability to conduct successful state congresses let alone a national elective convention.
In his remarks shortly after he was pronounced elected chairman of the party by Governor Ahmadu Fintiri, Ayu took the APC to the cleaners, blaming it for the sundry challenges facing the country.
"I believe the other party can never hold a convention because even in states, they cannot hold congresses. They have produced 92 state chairmen for 36 states, how can they hold a successful convention which the PDP has done?  We are waiting for them. This  is a challenge to them. This is a quit notice for them. PDP is back and is taking back the country to develop it.
"I want to sincerely appreciate the PDP family. Today is simply a thank you address. When we started this party 23 years ago, we never in any way imagined that the journey will get us to this stage, a stage  where  we ruled for 16 years.
"We went into rough times, but for anybody who bother to see,  PDP is back to rescue Nigeria from the terrible mess we have been in in the last six years.
"I want to appreciate all of you who have taken time as delegates, observers, supporters, and members of the media as well as security services who have made this event such a wonderful event.
"Many people imagined that this convention will lead to the break up of the PDP. Those who dream like that are dreaming in wonderland. Their dream was misplaced.
"Those who have lost hope should know that Nigeria is not a divided country. A small group of people decided to divide Nigeria. PDP will come back,  unite our people, put them together, North and South, East and West.
"We will move ahead to develop this country. We did it before, we are going to do it again. I want to thank the governors. I want to thank the delegates. I want to thank our supporters and every single person who has made this event such a huge success," he said.
The Consensus List
1. Iyorchia Ayu- national chairman
2. Umar Iliya Damagum- deputy national chairman (North)
3. Taofeek Arapaja- deputy national chairman (South)
4. Samuel Anyanwu (national secretary)
5. Ahmed  Yayari Mohammed (national treasurer)
6. Umar Bature (national organizing secretary)
7. Daniel Woyegikuro (national financial secretary)
8. Stella Effah-Attoe (national woman leader)
9. Mohammed Kadade suleiman (national youth leader)
10. Kamaldeen  Adeyemi Ajibade (national legal adviser)
11. Debo Ologunagba (national publicity secretary)
12. Okechukwu Obiechina Daniel (national auditor)
13. Setonji Koshoede (deputy national secretary)
14 Ndubisi Eneh David (deputy national treasurer)
15. Ibrahim Abdullahi (deputy national publicity secretary)
16. Ighoyota Amori (deputy national organizing secretary)
17. Adamu Kamale (deputy national financial secretary)
18. Hajara Yakubu Wanka (deputy national woman leader)
19. Timothy Osadolor (deputy national youth leader)
20. Okechukwu Osuoha (deputy national legal adviser)
Source: Vanguard
Group Canvases Objective Engagement with Tinubu-led Government
By Victor Iko-Ojo
…
Irrespective of the challenges witnessed at the last general election that brought president bola Ahmed tinubu to power, a group known as 'Good Friends Network for Good Governance' has called for calm and understanding with the Bola Ahmed Tinubu-led government in the interest of nigeria.
This opinion was expressed by the convener Nwafor Chigbo Fortune in a an interview with our reporter at the recent civil society interactive forum in Abuja.
According to Nwafor, elections and court matters are over, hence the need for everyone to move on, irrespective of party affiliation, without prejudicing the need to ensure the delivery of the dividends of democracy to the populace.
"Nigeria belongs to Nigerians and failure to provide leadership will affect everyone" he said.
Nwafor charged those in power to be magnanimous in victory and run a government of inclusiveness devoid of short changing any region due to political differences.
He reminded Nigerians of their civic responsibilities of holding government accountable at all times.
According to Nwafor, The Good Friends Network for Good Governance has been at the forefront of engagements for the entrenchment of enduring democratic principles and ensuring that the populace gets value for their electoral investment in their leaders
He therefore called on the opposition parties to synergise and not not relent in providing the much desired objective criticism whenever the need arises because a robust opposition is the panacea that keeps the government in check in a functional democracy.
Liberian Presidential Election: George Weah Concedes, Congratulates Opponent Boakai
Liberian President George Weah has called his challenger in the presidential race, Joseph Boakai, to congratulate him on his victory.
In an address to the nation he said "the Liberian people have spoken and we have heard their voice".
The opposition candidate holds an unassailable lead of 28,000 votes with nearly all ballots counted.
A former world footballer of the year, President Weah has been in power since 2018. He will step down in January.
He came into the job on a wave of enthusiasm, especially from younger voters, having won that election – also against Mr Boakai – by a large margin.
But a perception that he had failed to tackle corruption, rising prices and continued economic difficulties tarnished his image.
Mr Weah was magnanimous in defeat, beginning his five-minute address by saying he had "the utmost respect for the democratic process that has defined our nation", adding that he had spoken to Mr Boakai who he called the "president-elect".
Earlier the electoral commission announced that Mr Boakai, a 78-year-old political veteran had 50.89% of the votes, while President Weah had 49.11%.
The president referred to the closeness of the race saying it "reveals a deep division within our country" and called on Liberians to "work together to find common ground… unity is paramount for mama Liberia".
A long period of civil war in which an estimated 250,000 people died ended just 20 years ago.
When the latest set of results were announced earlier on Friday, they sparked celebrations in the capital, Monrovia.
Mr Boakai's supporters gathered at his party's headquarters in the city, convinced that he had won the election.
They called for President Weah to go, and chanted "we beat the Buga dancer" – referring to a song that became associated with his campaign.
The electoral commission says it has announced the results from 99.58% of the polling stations following Tuesday's run-off election.

Image caption,
Mr Boakai's supporters gathered at his party's headquarters in Monrovia
The run-off between Mr Boakai and Mr Weah was triggered after neither candidate got more than 50% of the vote in last month's first round. There were 18 other candidates.
In that vote, the president got the largest share and was just 7,000 votes ahead of Mr Boakai.
The poll was the tightest presidential contest in Liberia since the civil war.
Mr Boakai's campaigning focused on the need to rescue the nation from what he called "mismanagement" by Mr Weah's administration.
The president dismissed Mr Boakai's allegations, saying he had made significant strides, including introducing free tuition for university students.
This is the fourth time a presidential election has taken place since the war ended.
Observers from the regional bloc, Ecowas, deemed the run-off largely peaceful, AFP news agency reports.
But there were isolated incidents that led to "injuries and hospitalisations" in the provinces of Lofa, Nimba, Bong and Montserrado, it quotes observers as saying.
I Have Not Withdrawn From Guber Race – Admiral Jibrin Usman
By Ojone Grace Odaudu
Lokoja, Kogi State, 2nd October 2023
..
Contrary to the rumours being spread on the social media that the Accord Party candidate in the forthcoming Governorship election in Kogi State, Admiral Usman Jibrin has withdrawn from the race, the former Chief of Naval Staff, popularly called Akpabana has debunked the claims.
In a statement by his media team, Jibrin described the rumour as a wicked and evil machination of frustrated political opponents who have seen the handwriting of an imminent defeat of their candidate on the wall and are bent on deceiving unsuspecting members of the voting public.
The statement which was signed by the Head of Campaign Media Team, Emmanuel Iyede advised the teeming supporters of Admiral Jibrin to disregard the campaign of calumny against the candidate and work towards his emergence as
– We, the campaign team of Admiral Usman Jibrin, the governorship candidate of the Accord Party, would like to officially address the ongoing rumors circulating in various media and social platforms. These rumors suggest that Admiral Usman Jibrin has decided to step down from the governorship race in favor of Murtala Yakubu of the Social Democratic Party (SDP). We want to categorically state that these rumors are entirely false and unfounded.
Admiral Usman Jibrin remains firmly committed to his candidacy and the people of Kogi State. He has not, and will not, step down from the governorship race. Our campaign has been built on the principles of transparency, honesty, and a sincere dedication to bringing positive change to the lives of the people in our state.
These baseless rumors are a clear attempt to mislead the public, sow confusion, and undermine the democratic process. We urge everyone to exercise caution and verify the information they encounter before accepting it as fact. The spreading of false information not only harms the integrity of our electoral system but also creates unnecessary anxiety among our supporters.
Our campaign is strong, united, and focused on the issues that matter most to the people of Kogi State. We believe in the power of the democratic process, and we are committed to running a fair, honest, and transparent campaign.
Admiral Usman Jibrin and the Accord Party are dedicated to providing the best possible leadership and governance for the people of Kogi State. We remain steadfast in our mission and will continue to work tirelessly to earn the trust and support of the voters.
If you have any questions or require further information, please feel free to contact our campaign headquarters at e.iyede@jibrinusmanofficial.org. We appreciate the support and trust of the people, and together, we will bring positive change to Kogi State.
Sincerely,
Emmanuel Iyede
Head of Admiral Usman Jibrin Campaign Media
e.iyede@jibrinusmanofficial.org