Hushpuppi: seeking probe of Atiku, Saraki, Dogara, Dino, myself unserious – Frank
Former Deputy National Publicity Secretary of the All Progressives Congress (APC), Comrade Timi Frank, on Tuesday, described the call for the investigation of former Vice President Atiku Abubakar, ex-Senate President, Dr. Abubakar Bukola Saraki, ex-Speaker, House of Representatives, Yakubu Dogara, Senator Dino Melaye and himself as a huge joke.
A suspected Nigerian internet fraudster, Ramon Abbas, popularly known as Hushpuppi was recently arrested in Dubai and extradited to the United States of America (USA) where he is currently facing trial.
Following his arrest, the All Progressives Congress (APC) had called for the probe of some Peoples Democratic Party (PDP) chieftains, including Atiku, Saraki, Dogara, Melaye and Frank for appearing in certain photographs with the suspect.
However, the PDP in a statement described the call for the arrest and probe
of some of its prominent members over alleged links to Hushpuppi as "reckless and irresponsible," saying it further exposed a victimisation agenda of the APC.
Atiku, Saraki and Dogara have also in separate statements denied any business connection with the suspect.
Frank in a statement in Abuja, said the photographs under reference were taken at a public function and therefore cannot be proof that any of them had business dealings with the suspect.
The Bayelsa-born Political Activist said: "That Hushpuppi was privileged to be in a function where he took pictures with His Excellency Alhaji Atiku Abubakar, former Senate President, Dr. Abubakar Bukola Saraki, former Speaker Yakubu Dogara, Senator Dino Melaye and my humble self, does not prove that any of us had business dealings of any kind with him.
"Hushpuppi is a Nigerian that was in a function with Nigerians and like any other Nigerian, asked for photo sections with these leaders of Nigeria which they obliged.
"I understand that this is beyond the comprehension of the APC's regime, especially the Head of State, Rtd. Maj. Gen. Muhammadu Buhari, because Nigerians loathe them and run away from them whenever they come across them in foreign countries, hence they are trying to rope us into imaginary business dealings with Hushpuppi.
"Does the APC think that the USA and its security agencies, like the Federal Bureau of Investigation (FBI) make arrests before investigation?
"Does the APC government not realise that investigation was carried out before Hushpuppi was arrested?
"America is not Nigeria where the APC's militant wing, alias the Economic and Financial Crimes Commission (EFCC) and other security agencies, go about harassing innocent citizens even before any investigation is carried out.
"We know that the APC's government and its sycophantic town criers are very good at weaving lies, propaganda, stealing and embezzling of public funds, supporting Boko Haram insurgents, bandits and protecting APC political Hushpuppis like the cabals in the Villa who before 2015 were in debt and extreme poverty, but have within the last five years of Buhari's regime become multibillionaires.
"They even acquired Etisalat, now known as 9Mobile, Keystone Bank, etc. Some of these APC political hushpuppies even had bullion vans in their houses during the 2019 presidential election campaigns.
"We have seen an APC governor open a bank in his 'Babariga' where he openly pocketed huge amounts of dollars without personal shame or repercussions from this government.
"We have seen billions of dollars fritted away at the Nigerian National Petroleum Corporation (NNPC), Federal Inland Revenue Service (FIRS) and other government agencies under the APC regime.
"Even the Attorney-General of the Federation and Minister of Justice, last week, called for the sack of the head of the EFCC over corruption allegations. The EFCC boss, Ibrahim Magu, is presently being quizzed by a Presidential Panel constituted by the is regime.
"What can be more embarrassing to a country than for the head of its anti-graft crusade to be indicted for corruption?
"APC and this regime should bury their head in shame as this is the most corrupt democratic administration in the history of our beloved country.
"If Hushpuppi had been extradited to Nigeria, this corrupt and clueless Buhari-led APC regime would have set him free.
"The FBI does not need anybody to urge them to act or investigate any individual, if they have evidence against anybody they will do the needful as they are professionals in their job.
"Finally, Buhari and the APC should stop wasting time sponsoring unnecessary protests, rather they should focus on delivering the fake promises they made to Nigerians during their electioneering campaigns and to think of how to repay all the debts they have accumulated through incessant foreign and local loans.
Shocking! Peter Obi Dumps PDP, cites "Recent Developments Within the Party"
Frontline Presidential aspirant on the platform of the People's Democratic Party (PDP) and former governor of Anambra State, Mr Peter Obi has dumped the opposition party.
In a letter dated 24th May 2022  addressed to the National Chairman of the party and submitted through the Aspirant's Agulu Ward, Obi said his decision was informed by "recent developments within the party".
According to him  although he is still committed to nation-building, he might seek a different route to achieving it.
2023 Elections: 10 Ministers Resign from Buhari's Cabinet
Ten Nigerian cabinet members resigned to run for political office in compliance with an order from President Muhammadu Buhari.
According to Lai Mohammed, minister of information, the ministers will be replaced immediately. Buhari had directed all cabinet ministers that intended to run in national elections next February to resign from their posts by May 16 to ensure they didn't unfairly benefit from their government positions.
Mohammed said he didn't have any information on the status of central bank Governor Godwin Emefiele, who has also declared his intention to run.
Buhari holds Valedictory service for Ministers
President Buhari on Friday held a valedictory session with the ten ministers that tendered their resignation letters to pursue their political ambition in the 2023 elections.
President Buhari also promised to fill as soon as possible the vacuum created by the departure of the ministers.
Minister of information and Culture, Alhaji Lai Mohammed disclosed this while briefing State House correspondents at the end of the validatory session at the Presidential Villa, Abuja.
According to him, the outgoing Ministers that attended the session were; Rotimi Amaechi (Transportation), Chris Ngige (Labour and Employment), Godswill Akpabio (Niger Delta Affairs), Dr. Ogbonnaya Onu (Science and Technological Innovation), Timipre Sylva State for Petroleum Resources), Tayo Alasoadura (State for Niger Delta Affairs), Dame Tallen Paulen (Women Affairs), Uche Ogar (State for Mines and Steel Development), Abubakar Malami (Attorney General of the Federation and Minister of Justice) and Emeka Nwajiuba (State for Education), who was absent but with a permission.
(Politics Nigeria)
Resign Now, Buhari Orders Ngige, Amaechi, Akpabio, Nwajiuba, Other Aspirants
President Muhammadu Buhari has directed that all members of the Federal Executive Council (FEC) running for elective offices to submit their letters of resignation on or before Monday the 16th of May, 2022.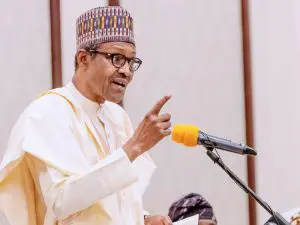 The Minister of information and Culture, Lai Mohamed, disclosed this on Wednesday during the Federal Executive Council meeting.
He said that the directive excludes the Vice President, Professor Yemi Osinbajo.
The Information Minister affirmed that if there are any amendments or additions to this directive they would be made shortly.
According to the Minister, the directive might involve political appointees, if the need arises.
The affected appointees include, Ministers of Transportation, Rotimi Amaechi; Niger Delta, Godswill Akpabio; Labour and Employment, Chris Ngige; Science, Technology and Innovation, Ogbonnaya Onu, Minister of State for Education, Emeka Nwajiuba; Justice and Attorney General, Abubakar Malami, who have joined the presidential race on the platform of the All Progressive Congress (APC).
Others are the Minister of State  Mines and Steel, Uche Ogar, who is running for governorship position in Abia State, the Minister of Women Affairs, Paulline Tallen, who recently declared her ambition to contest for the senatorial seat in Plateau State.
He added that the directive excludes the Vice President because he is an elected member of the cabinet.