Group says it unconvered plot to unseat AGF Malami
A leaked document and email from one Olarewaju Suraju who claimed to be the Chairman of a Civil Society Against Corruption indicates a desperate move to cast aspersions against the Honourable Attorney General of the Federation and Minister of Justice, Abubakar Malami, SAN.
The Chairman of Integrity Group Against Corruption, Mr Bello Gambo Iliya showed the leaked email to reporters in Kano on Tuesday.
The leaked email titled "Complaint Against Malami" was dated Monday 27th July 2020 and signed by one Lanre. The email was intended to garner support from civil society organisations.
The letter reads" Dear Colleagues, Iam checking to know if you and your organisation will be interested in jointly signing this document and any other Comrades you know. Please kindly revert ASAP
Thanks
Lanre".
The writer of the email (Lanre) was demanding support to petition President Muhammadu Buhari against the Attorney-General of the Federation and Minister of Justice Abubakar Malami, SAN.
It could be recalled that Olaruwanju Surajo, claimed to be the Chair of Human and Environment Development Agenda in 2018 when he addressed a press conference on relevant matter and now he chairs Anti-corruption NGO.
Recall that for days, it appears their efforts to get people to own the document failed as he resorted to emailing some NGOs to achieve their sinister motive.
It was clearly verified that the said man was busy struggling to get support from civil society organisations against the Attorney General of the Federation and Minister of Justice.
Mr Bello, therefore, appealed to Malami to remain resolute in the fight against corruption, adding that "peoples like Lanre are survivalists trying to revive themselves through sponsorship against authorities fighting corruption in the country".
Shocking! Peter Obi Dumps PDP, cites "Recent Developments Within the Party"
Frontline Presidential aspirant on the platform of the People's Democratic Party (PDP) and former governor of Anambra State, Mr Peter Obi has dumped the opposition party.
In a letter dated 24th May 2022  addressed to the National Chairman of the party and submitted through the Aspirant's Agulu Ward, Obi said his decision was informed by "recent developments within the party".
According to him  although he is still committed to nation-building, he might seek a different route to achieving it.
2023 Elections: 10 Ministers Resign from Buhari's Cabinet
Ten Nigerian cabinet members resigned to run for political office in compliance with an order from President Muhammadu Buhari.
According to Lai Mohammed, minister of information, the ministers will be replaced immediately. Buhari had directed all cabinet ministers that intended to run in national elections next February to resign from their posts by May 16 to ensure they didn't unfairly benefit from their government positions.
Mohammed said he didn't have any information on the status of central bank Governor Godwin Emefiele, who has also declared his intention to run.
Buhari holds Valedictory service for Ministers
President Buhari on Friday held a valedictory session with the ten ministers that tendered their resignation letters to pursue their political ambition in the 2023 elections.
President Buhari also promised to fill as soon as possible the vacuum created by the departure of the ministers.
Minister of information and Culture, Alhaji Lai Mohammed disclosed this while briefing State House correspondents at the end of the validatory session at the Presidential Villa, Abuja.
According to him, the outgoing Ministers that attended the session were; Rotimi Amaechi (Transportation), Chris Ngige (Labour and Employment), Godswill Akpabio (Niger Delta Affairs), Dr. Ogbonnaya Onu (Science and Technological Innovation), Timipre Sylva State for Petroleum Resources), Tayo Alasoadura (State for Niger Delta Affairs), Dame Tallen Paulen (Women Affairs), Uche Ogar (State for Mines and Steel Development), Abubakar Malami (Attorney General of the Federation and Minister of Justice) and Emeka Nwajiuba (State for Education), who was absent but with a permission.
(Politics Nigeria)
Resign Now, Buhari Orders Ngige, Amaechi, Akpabio, Nwajiuba, Other Aspirants
President Muhammadu Buhari has directed that all members of the Federal Executive Council (FEC) running for elective offices to submit their letters of resignation on or before Monday the 16th of May, 2022.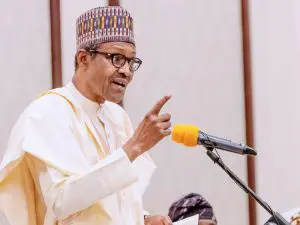 The Minister of information and Culture, Lai Mohamed, disclosed this on Wednesday during the Federal Executive Council meeting.
He said that the directive excludes the Vice President, Professor Yemi Osinbajo.
The Information Minister affirmed that if there are any amendments or additions to this directive they would be made shortly.
According to the Minister, the directive might involve political appointees, if the need arises.
The affected appointees include, Ministers of Transportation, Rotimi Amaechi; Niger Delta, Godswill Akpabio; Labour and Employment, Chris Ngige; Science, Technology and Innovation, Ogbonnaya Onu, Minister of State for Education, Emeka Nwajiuba; Justice and Attorney General, Abubakar Malami, who have joined the presidential race on the platform of the All Progressive Congress (APC).
Others are the Minister of State  Mines and Steel, Uche Ogar, who is running for governorship position in Abia State, the Minister of Women Affairs, Paulline Tallen, who recently declared her ambition to contest for the senatorial seat in Plateau State.
He added that the directive excludes the Vice President because he is an elected member of the cabinet.